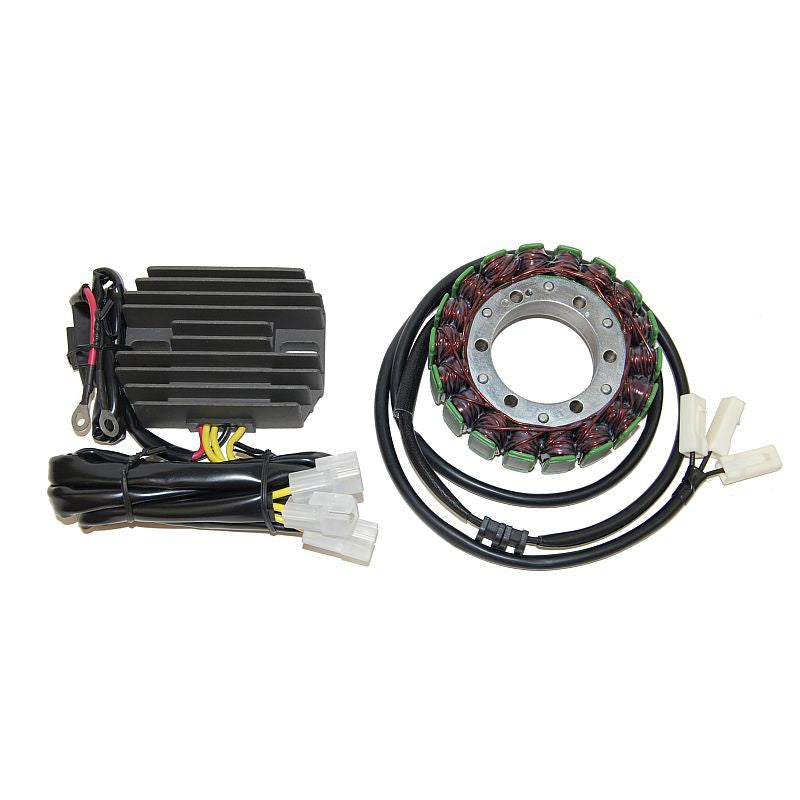 ESK697 Hi Power 400W Stator/Regulator KIT - Kawasaki 750 Teryx (08-ON)
ESK697 is a HIGH POWER conversion for your Kawasaki 750 Teryx from 2008-2012.  THIS WILL NOT FIT TERYX 4 APPLICATIONS, THIS IS FOR ONLY NON-4 TERYX MODELS.

Our ESK697 kit consists of our high power ESG697 450W stator and our proven ESR449 power regulator/rectifier. We developed this stator setup specifically to address growing demand from Teryx riders for more electrical power on their UTVs. As the stock Teryx wiring cannot handle the extra power we connect the ESG697 stator directly to the ESR449 regulator, and the output from the regulator connects directly to the battery terminals through a fuse holder in the positive output lead. This is a safe and fool proof setup that will not overload the stock wiring.
Kawasaki lists the stock stator output for the 750 Teryx at 325W, but when tested it is actually closer to 300W. Part of this power is needed to keep the vehicle running, so in stock configuration you have no more than about 80-100W available for accessories.
After installation of the ESK697 kit a whopping 250W is available to power your accessories of choice!
All this power is generated safely without overheating the stator winding or the lead wires and connectors (!) For those interested: 400W = 90% of the total output is available at 3,000rpm, climbing to the full 450W output at 5,000rpm. This is a very nice and flat output curve which suits the 750 Teryx engine perfectly.
ESK697 is ready to install and comes with a full one year warranty.
---
---
More from this collection