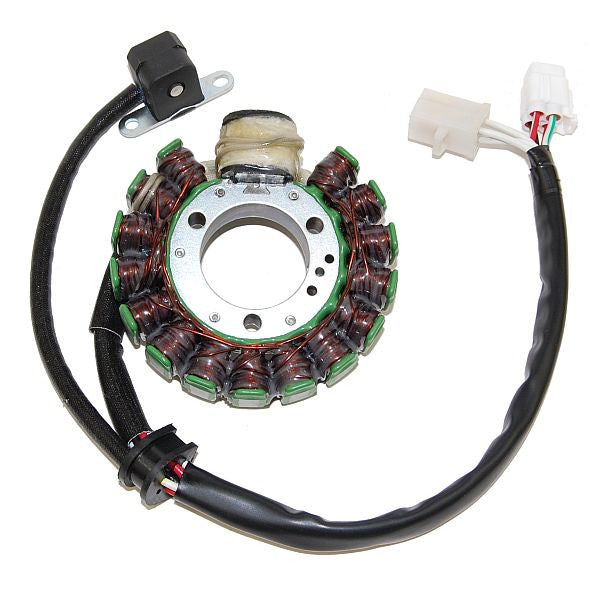 ESG421 Stator Yamaha YFB250 Timberwolf (94-00), YFM250 Bear Tracker (99-00)
ESG421 is a high quality stator that replaces the OEM stator in the Yamaha YFB250 Timberwolf between 1994 and 2000 as well as the YFM250 Bear Tracker between the years 1999 and 2000.
ESG421 is an exact match for the OEM stator on the base plate, and can be installed on this plate after removing the OEM stator which is mounted with three screws plus two for the pulser. This makes it a very simple install.
Our ESG421 is manufactured using a modern stator core and we install the highest grade copper wire using our state-of-the-art winding machines. The low magnetic losses inside the special core and the winding configuration we chose result in a highly efficient stator that runs cooler as well!
We install the highest quality lead wires that offer abrasion resistant insulation while being very heat tolerant. We add a high quality pulser coil, quality rubber seals, insulation coatings and connectors to make this ESG421 a plug in replacement. It fits directly onto the existing aluminum stator plate.
ESG421 offers superior performance and reliability compared to the OEM stator.
Like all stators manufactured by ElectroSport this ESG421 also comes with a full one year warranty.
---
---
More from this collection